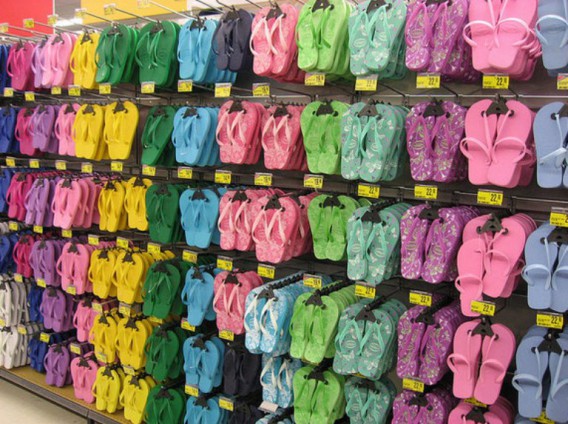 Flip-flops, sandals or Havaianas, the Brazilian brand has consolidated as a kind of essential footwear for days at the beach.
There's no better way to walk around Sao Paulo than wearing an original pair of Havaianas. In 2009, the Brazilian brand finally opened their first shop in the city on the street of Oscar Freire, which is one of the city's most exclusive streets. But don't let this area which is filled with shops surprise you because if there's something that characterizes Havaianas, it's their low prices ranging from 3 to 15 euros. This price range definitely applies to the most classic ones.
The shop has about 300 m2 and each of its walls are covered with sandals. There's a large variety to choose from including different colours, floral motifs, exclusives, by Swarovski etc. Not only will they become your best ally for walking around Sao Paulo, they also make a perfect gift for any relative who's waiting for you back home. It's true that this brand has become international due to its popularity, but there's no better location to buy a pair of Havaianas than their place of origin. You'll soon realize that they're the most popular item of clothing and that they've become quite an icon of street culture. These provide comfortable footwear for bearing the high temperatures of the city. Havaianas are still number 1 and they are an item that doesn't go out of fashion over the years, which makes them a nice souvenir of your holidays :).
Photo| Kai Hendry