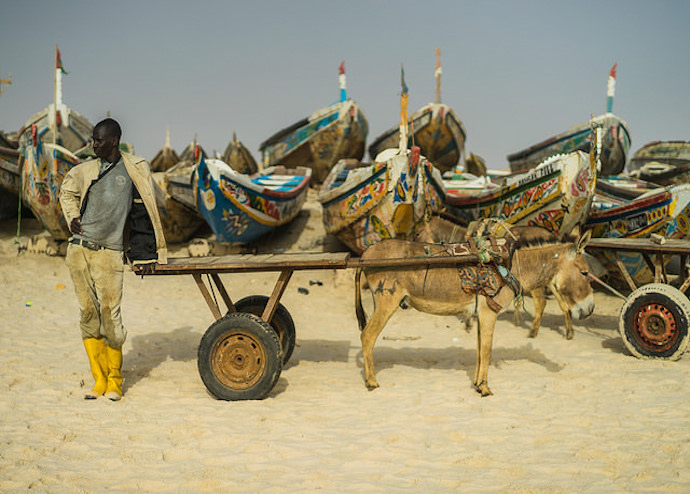 At Iberia Joven we love introducing you to cool but under-the-radar destinations, for example to places whose very names exude mystery and exoticism. In the case of the West African country of Mauritania and its tongue-twisting capital (served by Iberia with the best fares of any airline), would you be intrigued to know what Nouakchott has to offer the visitor?
To start organising your visit, keep in mind that June is a perfect time of year to visit this corner of Africa (though other months are good, too). And yes, it's a safe destination, as well as being cheap. So YOLO – pull out your backpack and start fearlessly packing for a truly brilliant adventure!
Once you're here, you'll definitely want to make a visit to the picturesque – and slightly chaotic – Port de Pêche, a fishing port and market that's the Mauritanian capital's top attraction. Atone of themost important and lively markets of Africa's west coast,the atmosphere is fast and furious, and it's fascinating to observe how hundreds of Wolof and Fula fishermen drag their fish-filled nets – a spectacle that really makes you feel like you're in Africa! (And remember: always ask permission before taking someone's picture).
The most comfortable way to get to the Port de Pêche is by taxi. Then once you and your friends are there, you can also check out Nouakchott Beach for a refreshing dip and some awesome photo ops along kilometres of very fine and exceptional sands and robust surf; its frequented mostly by foreign visitors and also has various beach stands and beach-chair/umbrella rentals (a favourite is the stretch of beach called Les Sultanes). It's a great place to sample local fish and other seafood – tasty and pretty inexpensive!
So now you know: Nouakchott is a great place to check out before exploring the fascinating deserts of Mauritania (shades of which you'll see even before leaving the capital, in the form of nomads camping out in the city streets). "Shell Salt Pan" (as the city's name means) is laid-back, authentic, and cool. Suggest it to your chums for your next trip, and you won't be sorry – it will be the trip of a lifetime.
Photo | Mark Fischer