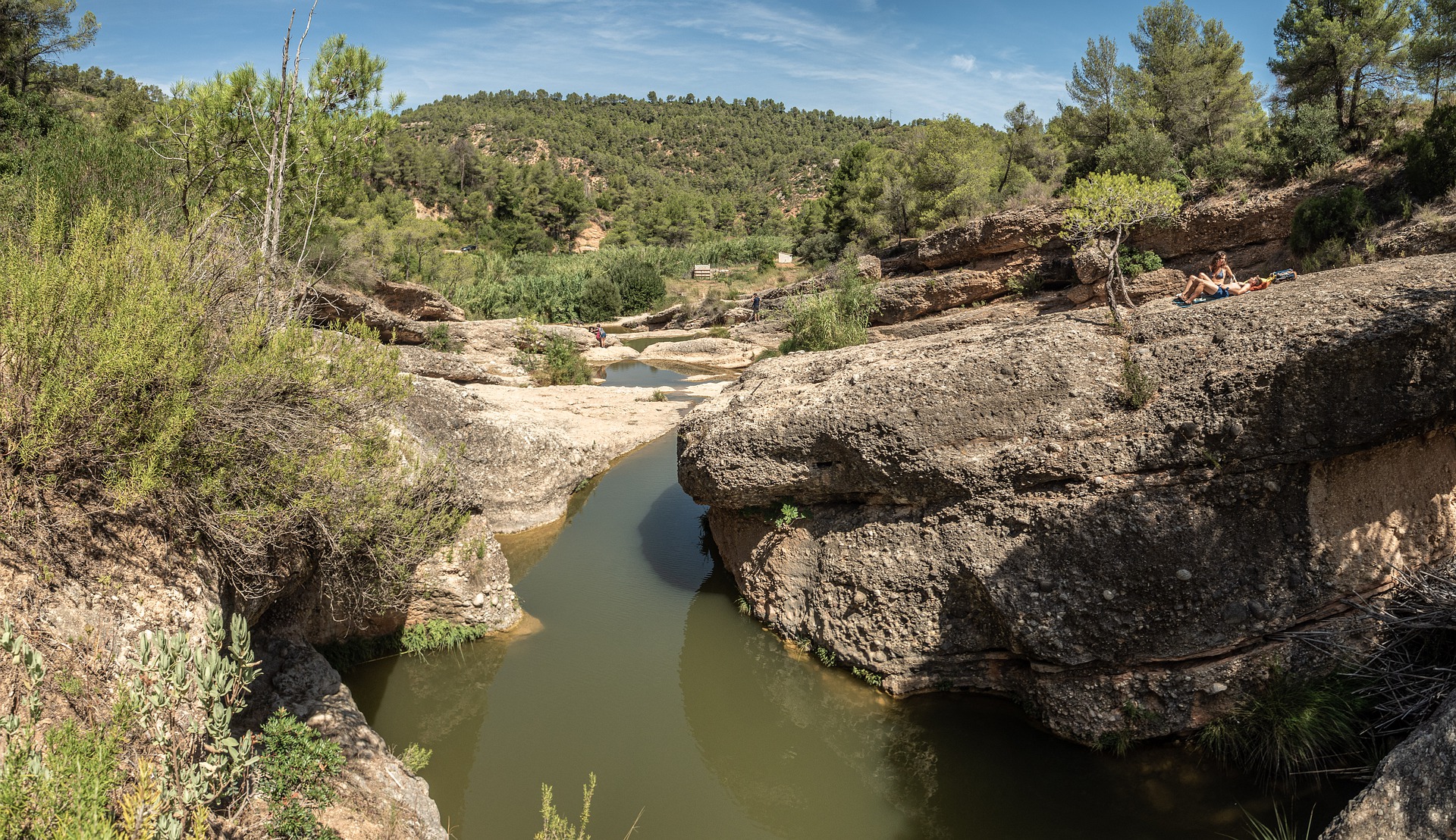 A lovely region just under two hours down the coast and inland from provincial capital Tarragona, and just under three from Barcelona, Terra Alta is known for its wines. But if you love nature as well as wine, there's also plenty of dramatic, rugged landscape to enjoy, especially in the Els Ports National Park. This 600-square-kilometre (231-sq.-mile) spread surrounded by mountains is forested by pines, beeches, yews, and olive trees, as well as packed with caves hidden amid the undergrowth that will let your inner Indiana Jones come out (a couple of the more impressive are Cova Cambra and Cova del Rastre – be sure to bring good strong lights!).
Also be sure to get to the top of the park's highest peak at more than 1,400 metres (4,593 feet), Monte Caro, whose El Portell outlook affords splendid views out over the landscape and Mediterranean (on a clear day you can even see out to the Balearic Islands). If you're into wildlife spotting, look for ibex (mountain goats with humongous horns), wild boar, badgers, foxes, wild cats, squirrels, and otters, as well as bird species including peregrine falcons, griffon vultures and eagles. And there are plenty of adventure activities here besides hiking, as well, such as mountain biking, horseback riding, and ziplining.
Beyond pure nature, there are also plenty of charming villages and towns to explore within the boundaries of Els Ports, as well, with cobbled old quarters and various churches, castles, and other landmarks. Arnes, Roquetes, and Horta de Sant Joan (where Pablo Picasso lived for more than a year and painted the town and region; there's a Picasso Centre with various exhibits as well as reproductions of some of his local works).
And speaking of towns, Terra Alta's capital Gandesa (pop. around 3,000) offers its own cobblestone streets and landmarks such as the 13th-century Romanesque-Gothic Mare de Deu de l'Assumpció church with interesting and unusual sculptures on its portal; Coll del Moro, an ancient archaeological site once inhabited by an Iberian tribe as far back as the 6th century BCE, before the Roman conquest of the peninsula; the also 13th-century Gothic Palau de l'Inquisitor; and the Battle of the Ebro Memorial Museum, devoted to a key event in the Spanish Civil War of 1936-39 (some of the old battle trenches can also be seen around the town).
But turning back to the fruit of the vine, Gandesa is also the most important of the dozen towns of Terra Alta wine country, which dates back to Roman times and produces reds and whites that have been increasingly making a name for themselves internationally – distinctive thanks in part to its relatively high altitude and to the local limestone soil. Here you can visit the Celler Cooperatiu, a 102-year-old winery in Modernista (Art Nouveau) style that's known as one of Catalonia's "wine cathedrals"; three of the best of the more than two dozen other area wineries open to visitors are Celler Cal Menescal, Herència Altés, and Celler La Fou.
Nature, history, and great wine – sounds pretty good, no? Come check it out by flying to Barcelona with Iberia and driving down to Terra Alta to discover a fascinating undersung corner of Catalonia.
photo: Matressa