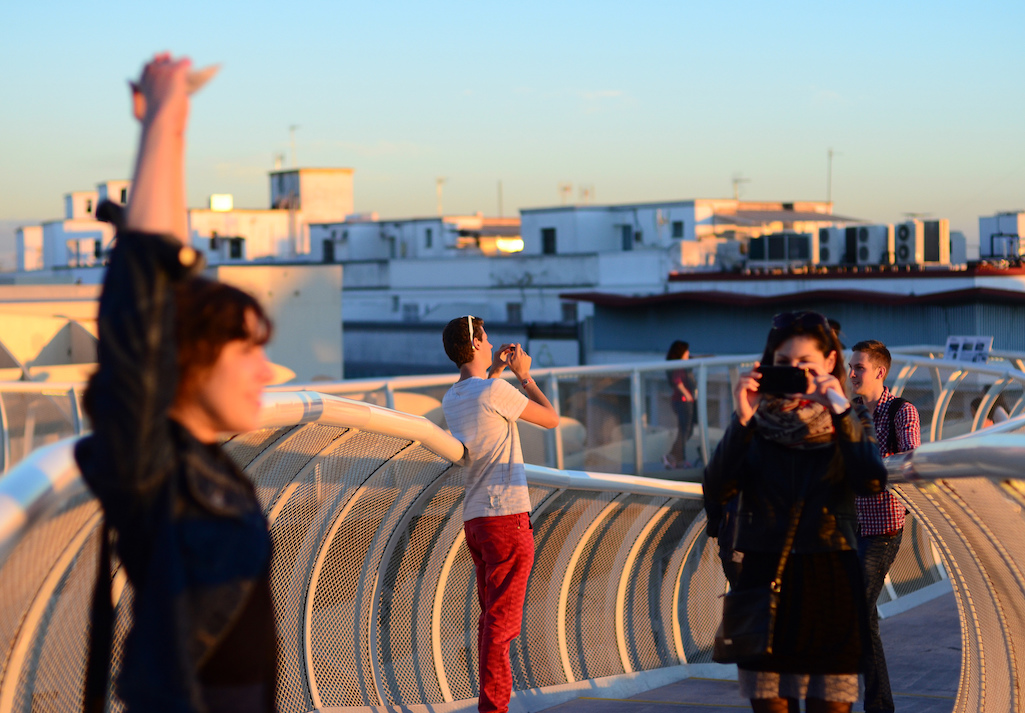 As you well know by now, Iberia Joven is a portal dedicated to students who want to travel. And if your goal is to discover the world and live new experiences, have we got a destination for you: Seville. Come with us today as we take a stroll through the heart of the capital of Andalusia, one that always thrills young people under 30.
Although our main stop will be the famous Mushrooms of Seville, we'll start our visit in a suggestively named street: calle Amor de Dios, or Love of God. There we'll spend a while browsing its record stores, T-shirts shops, bakeries… small, unique places with great character, where you can find real treasures for little money.
On the way to the Metropol Parasol we will stop just a few feet earlier, at the Seville Institute of Culture and the Arts. As its name indicates, it's a buzzing nest of artsy activities, a space to frequent if you consider yourself a culture vulture, since it will turn you on to festivals, plays, exhibitions and cultural events of all kinds.
For music lovers, the Alameda de Hércules will be, for the second consecutive year, the epicenter of Monkey Week, which will be held on 12, 13 and 14 October with SICA's support. The independent music festival, which last year premiered in Seville, was attended by more than 16,000 people divided among the event's 20 spaces. You may wish to start booking your ticket to Seville with us now.
After a five-minute walk on Martín Villa Street we will finally reach one of the most famous viewpoints in Seville. Did you know that the Las Metas and/or Metropol Parasol project by architect Jürgen Mayer is the largest wooden structure in the world? Although there is no student discount, admission is only three euros and includes a free libation in the bars on the upper terrace. It is a unique architectural space indeed, and one that harbours under the six "mushrooms" a market you may want to explore…
After snapping many pics in and from the Metropol Parasol, we'll continue our walk through Seville (stopping of course for tapas). The tour will take us through Sierpes street, a major commercial artery that's both lively and crowded. From there, our walk continues through the picturesque neighbourhood of Santa Cruz, where you may want to check out La Cueva restaurant, whose taurine decor can be a good reason to bring visiting family or friends for a different kind of dining experience.
Photo | Marco Sacchi