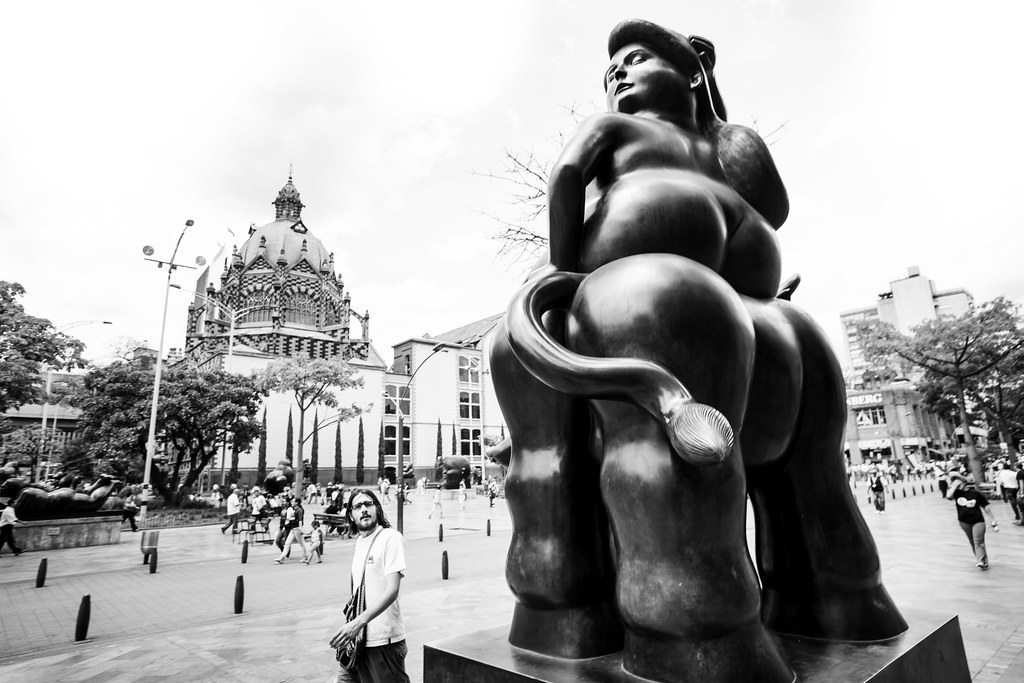 Imagine enjoying the fresh air in an immense park with an incredible palace in Flemish Gothic style on one side, modern buildings on the other, and a train running through the elevated highways of the city. You are in Plaza de Botero and you are enjoying a few days of leisure in what they call the coolest city in Colombia: Medellin.
Simply put, Botero Square is a not-to-be missed destination in Medellin. The artist's famous sculptures –which are very easy to recognize for their voluptuousness and exaggerated features- were a gift from Botero to his birth city. There are twenty-three in total, and they are all made of dark bronze, giving the square a unique look.
But to complete your artistic tour through the center of Medellin, you must visit the famed Museum of Antioquia, located on one side of the Plaza de Botero. The museum has a total of 17 permanent exhibition halls, and as far as we know, no one regrets having dedicated at least one morning to explore this rich artistic cornucopia.
The Museum of Antioquia focuses on the work of Botero himself. It's recommended you start on the third floor, which is where the sculptures and paintings of the artist are exhibited. Apart from the work of the Colombian artist, the Antioquia Museum presents art collections from many other artists and features artistic currents that are also worth experiencing. It also has interactive exhibitions, which make the visitor's encounter with art more enjoyable and fun.
Finally, the Rafael Uribe Palace of Culture is also near Plaza de Botero. There you can go up to the top floor for unique views of the city. After you take a few panoramic photos of the beautiful views, the "likes" and approving emojis will begin popping up in your social networks.
So as you already know, your visit to the artistic center of Medellin must begin in Plaza de Botero.
Photo | Jimmy Vaikovicious