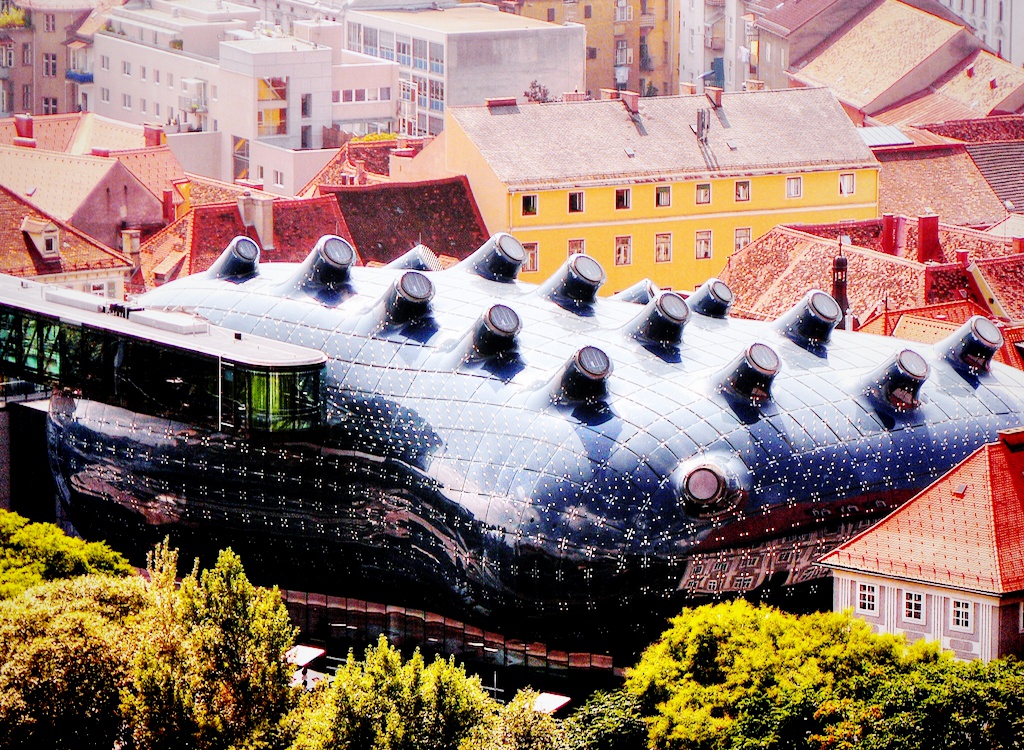 Iberia Joven gives you advice to make your life as a student more interesting and comfortable. This is why we have no hesitation in recommending to you in this blog a trip to Vienna which, besides being very easy to get to, is also very much worth it. We want to inspire you to organise a cultureta weekend in the nearby Austrian city of Graz, because studying architecture is not a prerequisite to feel moved by one of its most significant buildings: the "Kunsthaus Graz".
A lovely weekend excursion from Vienna
If you are looking to keep costs down, your best bet is to jump on a train which will comfortably and for a good price take you from Mozart's homeland to our destination, Graz – a young and lively city. You depart from Bahnhof Wien-Meidling station and in two and a half hours arrive from Vienna in Graz's central station. The ticket costs less than 40 euros, although if you are a student in Austria you can always get this cheaper (SCHULCARD offers discounted travel for young people under 26).
The idea is to spend at least one night in the state of Styria's capital city, getting to know this exciting university city during the day and the early hours of the morning. No matter what, your visit should include a look around the spectacular museum for young people: the "Kunsthaus Graz", Grazer Kunsthaus or Graz Art Museum, a must-see on any study trip to Austria. Students under 27 years old will benefit from admission discounts to the Graz Art Museum, only costing 3 euros compared to the normal price (9 euros). A useful savings tip to bear in mind!
It is impossible to describe such an amazing building – words simply do not do it justice. Futuristic, spacecraft, modern, extraterrestrial… it is no wonder the locals know it as the "Friendly Alien". We will leave it for you to see for yourself but this is definitely a must for architecture students and anyone with an interest in design and avant-garde. Perhaps you will take advantage of one of the guided tours they offer?
It is also worth noting that its cafe is also an interesting stop. In addition, as we love quirky things, the Graz Art Museum, a collective Spacelab design by Peter Cook and Colin Fournier, is a sustainable building which generates its own energy through solar panels which surround its curvaceous framework.
With that, we are sure you will enjoy your visit! 🙂
Photo | Polybert49