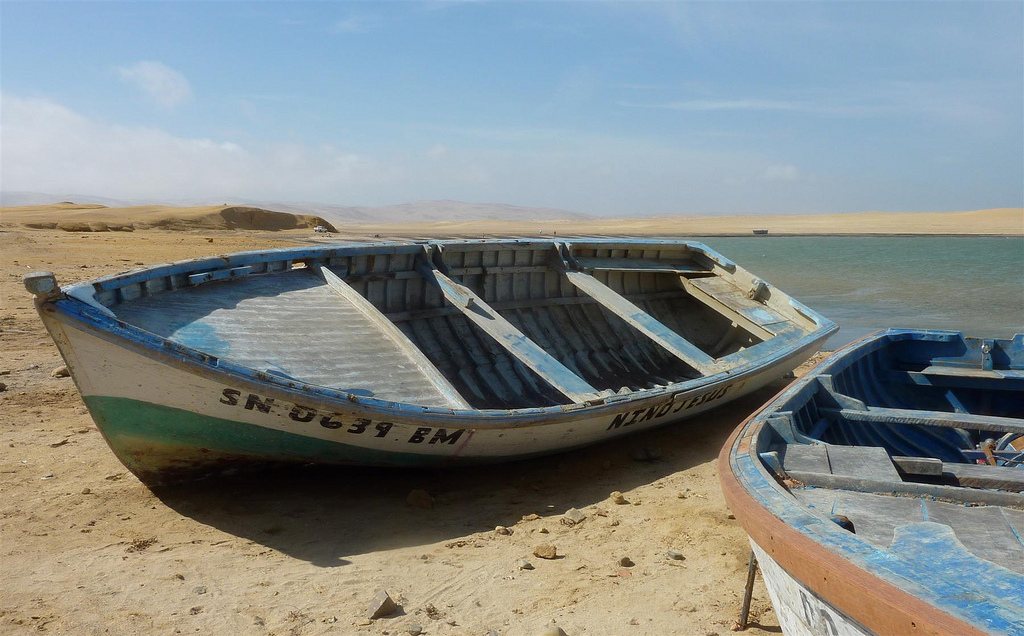 Two hours south of Peru's capital, near the city of Pisco (yes, where the Peruvian national tipple originates), a visit to the land and sea vistas, fauna, and flora of the Paracas National Reserve's 335,000 hectares (1,293 square miles) will prove impressive indeed. You can squeeze it into a long day trip from Lima, or overnight in Pisco, which offers plenty of cheap accommodations as well as tour operators and travel agencies which can get you out to the reserve very affordably.
One very popular day trip (though it means getting up mighty early in the AM!) is to combine an afternoon visit to the reserve with a morning cruise out to the nearby Ballestas Islands, just outside the reserve (not included officially because they're also home to a considerable extraction industry of guano – bird poo – with various commercial uses but especially as nitrogen-rich, fungicidal fertiliser). The tour operator will take you out on a comfy boat ride to spot sea lions and thousands of the wheeling, squawking sea birds – including cormorants, boobies, gulls, terns, pelicans, and even flamingos and Humboldt penguins – which produce all that guano. You might even spot dolphins!
And on your way to the Paracas reserve you'll also get a good look at an intriguing manmade formation reminiscent of the mysterious Nazca Lines north of Lima. The Candelabro (candelabra), aka the Trident or Three Crosses, is a 120-metre "geoglyph" scratched onto a Pisco Bay hillside circa 200 BC by the pre-Incan Paracas Culture for purposes as yet unknown.
Finally comes time for a tour through the reserve itself. From Paracas village, a minibus takes you through bleakly beautiful desertlike landscapes, with some parts on foot plus a stop at a museum documenting the reserve's Paracas Culture archaeological sites (bring your own lunch, because it's not included, and on the pricey side if bought in the reserve). You're returned to downtown Pisco, whence you can return to Lima or continue another 45 minutes to the small city of Ica, which among other things is set among some impressive sand dunes.
An unforgettable experience, indeed!
Photo | Cédric Liénart