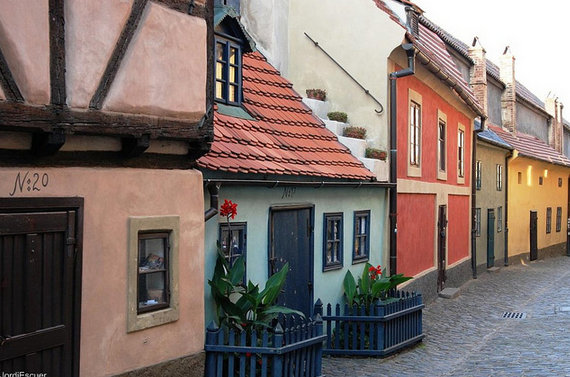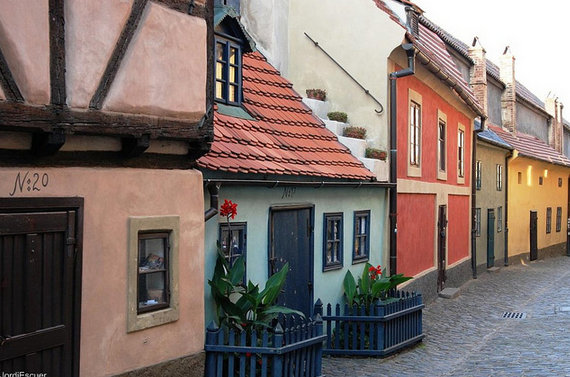 There's a small street in Prague that you mustn't miss if you want to get to know the true history of this city in more depth. This street is called the Golden Lane. It's one of the most touristic areas of Prague and it's particularly famous because the writer, Franz Kafka, lived here (at number 22 to be exact) between 1916 and 1917. It's said that it was here where he was inspired to write his novel The Castle.
The Golden Lane is a small and narrow street that first and foremost maintains its charm, as it's full of different coloured small houses. It's located inside Prague Castle. The size of the houses is what will attract your attention and this is the place where the castle guards used to live. With such wee little houses, they had to divide it up, in order to house their families. There were 25 houses initially but many have been destroyed over time, and now there are a mere 14 left. Nowadays, the houses are used as shops where you'll find numerous puppets that have become best-selling souvenirs. There are also shops selling medieval arms and armour where you'll be able to have a shot at shooting a crossbow.
It's best to take the tram (No. 22 to Pražský hrad stop, turn left and in 5 minutes you reach Prague Castle, or the same tram to Poho?elec and stroll downhill), as the ascent from Malá Strana can become exhausting. Golden Lane is a totally magical must-visit.
Photo| Jordi Escuer