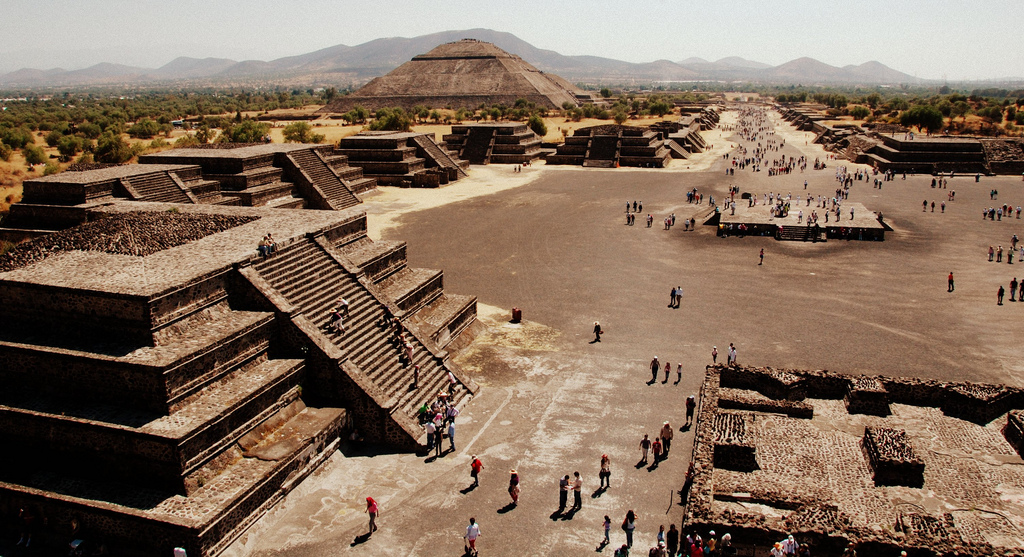 It's very difficult to express with simple words the magnificence of the Teotihuacán archaeological site located a few miles from Mexico City. No wonder it's called the City of the Gods. This unique historical area in the world, with its huge pyramids that still resist the passage of time, seems to send us a message from the past.
That's the reason why Teotihuacán is one of those mystical places where the calendar loses all its meaning: suddenly, you find yourself immersed in the Teotihuacán civilization, which flourished around two thousand years before the Iphone, Instagram and the invasion of Youtube stars and, for some reason, you feel that the gods are in your favor.
As a newcomer eager to explore the distant land of Mexico, you enter between the palaces and sacred temples along its main avenue, the Calzada de los Muertos, until you reach the imposing Pyramid of the Sun. Now, climb to the top of the huge pyramid, ascending step by step and stopping at any of its five rest points. Once at the top, contemplate the historic site in its entirety, and you will get an idea of the great devotion the Teotihuacán society felt for its gods. Take a moment to breathe the pure air high up, and head towards the Pyramid of the Moon, at the far end of the Calzada de los Muertos.
By this time you would think that you have seen it all, but on the contrary, there is an even better way to enjoy Teotihuacán; something its original inhabitants could only dream about. For those who are not afraid of heights and want to experience the most amazing adventure during this trip to the past, looking down at this historic complex from a hot air balloon is the thrill of a lifetime, one not easily forgotten.
Simply head towards the take-off area (easily recognizable by the multitude of hot air balloons waiting to ascend to the beautiful skies of Teotihuacán), greet the pilot who will take you up, and prepare for a unique eagle-eye look at the City of the Gods. The trip lasts about an hour and starts early, so be ready to make sure you don't miss one of the most spectacular views in all of Mexico.
Photo | LWYang