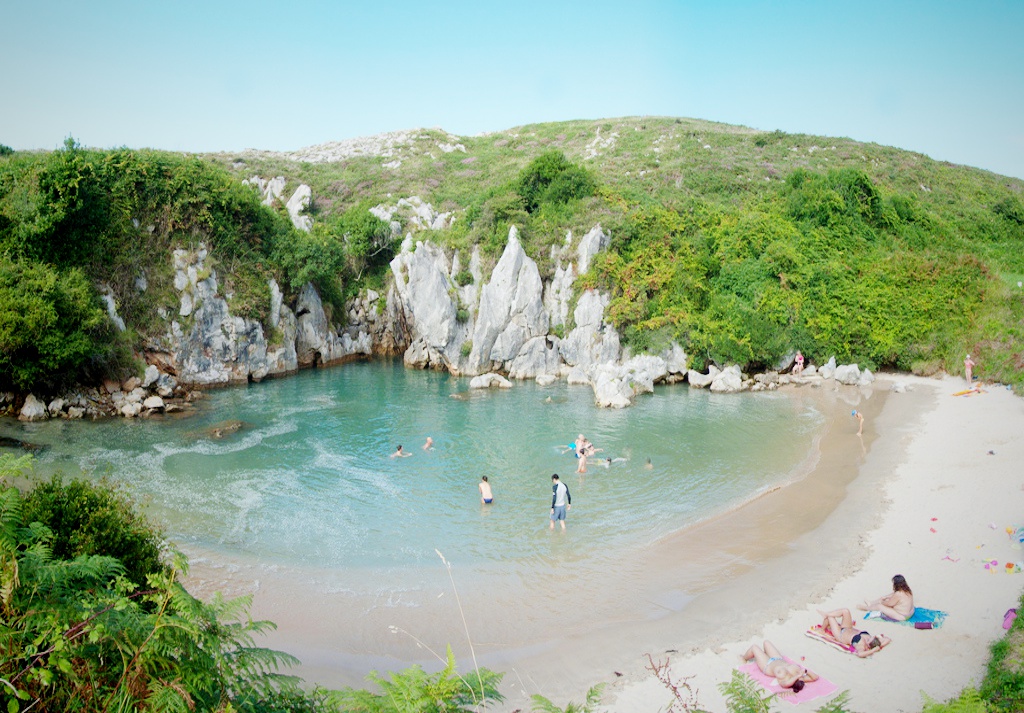 Many young people visit Asturias, as they are attracted by its overwhelming nature of a rural paradise that leaves nobody feeling indifferent.
We want to tell you something interesting today; something that will make you want to know what we are talking about. Did you know that there are beaches among the meadows? Believe it or not!
Asturias has 2 inland beaches: Cobijeru in Buelna, and Gulpiyuri in Naves; both of them are in the municipality of Llanes. These beaches curiously originate from sinkholes, which are caused by karstic erosion that makes part of the land to sink. These are created very near cliffs in a way that the sea enters through a crack and… voilà!… it forms these special beaches which are real wonders that nature provides completely free of charge.
The beaches at Cobijeru and Gulpiyuri have been declared as Natural Monuments. This comes as no surprise, as they are really incredible. Llanes is a town with a lot of tourist attractions in general, so whether you are studying at some place in Asturias or planning to visit it with friends, you have to make a stop in this municipality. There are dozens of festivities worth discovering: The Magdalena and Santa Ana in July, the San Roque in August, and La Guía in September are all very lively. But to see Llanes in all its glory, you have to head along on 15th August for the occasion of the patron saint festival of Nuestra Señora del Conceyu.
Going back to the beaches that you can't miss (Cobijeru and Gulpiyuri), remember that they are spectacular. Head along their with your friends, have a good dip in the water, take photos of the dramatic cliffs and enjoy a paradise called Asturias, which is affordable for everyone (as well as students). We promise.
Photo| blablabla arbliblibli