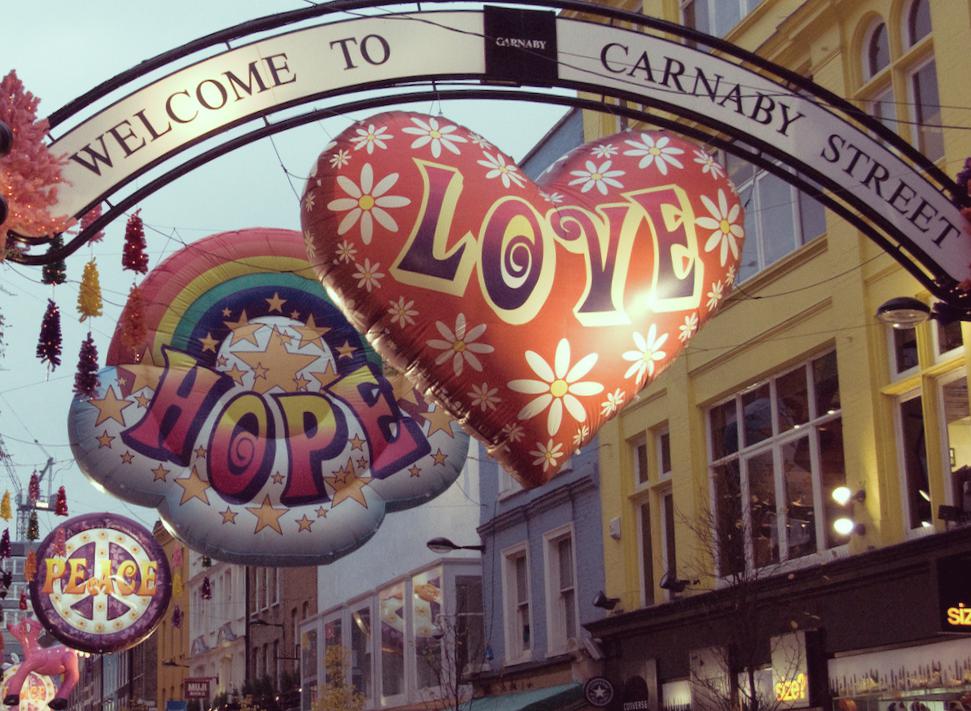 Though dating back to the 17th century, it was in the "Swinging 1960s" that Carnaby Street in Soho first became famous worldwide as a major hub of the youth-oriented fashion, cultural, and nightlife seen. And though they've evolved since, pedestrianised Carnaby and its surrounding streets have remained a fun, vibrant, young hub for London's various urban tribes especially for clothing boutiques and nightspots.
Get out of the Oxford Circus Underground station; to the right is elegant Regent Street (where you should by all means check out the Liberty department store with its elegant black-and-white façade and lovely merchandise, especially the paper section, with designs that will positively enchant you); continuing along here will takes you to bright, shiny Picadilly Circus.
Turning left will take you right to the Carnaby area, which includes Great Marlborough Street, also full of small, cool retailers like the Scotch Music Shop (No. 48) and tasty, mostly fairly inexpensive eats like Leon (natural fast food, at No. 35) and Flatplanet (Hawaiian-style hamburgers, No. 39). For Asian fare in a somewhat more sophisticated ambiance, check out Ping Pong (No. 45). Kingsley Street is another lively spot, full of pubs especially popular after work for "happy hour"and beyond, with all manner of blokes and birds packing interiors and having a grand old time out on the sidewalks with their pints and cocktails.
Studying in London – whether on Erasmus or other programmes – is an amazing experience both educationally and culturally, with no shortage of cool neighbourhoods like Carnaby Street or Brixton to expand your horizons. And getting there with Iberia Joven, with special discounts for those under 30, can help you save serious cash that you can use to enjoy it all the more.
Photo | Tony Austin