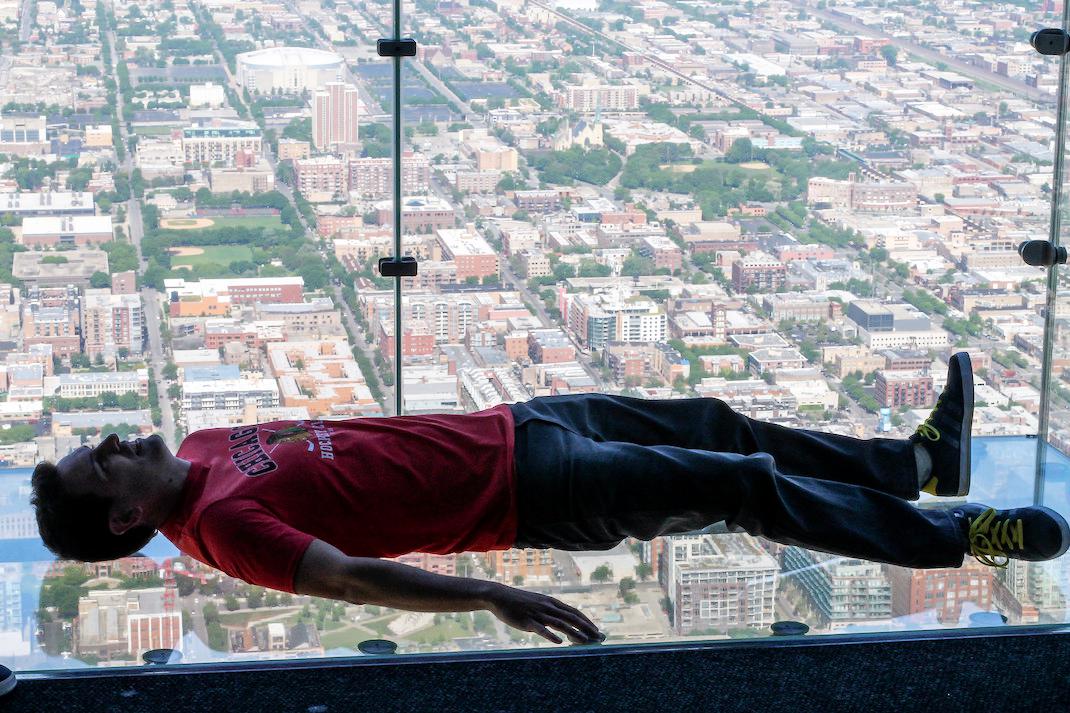 The "Windy City" is also, in spots, a surprisingly green city, with a number of wonderful public parks – no charge to enter – where Chicagoans bike, jog, run races, play, and happily hang out with friends and family. Plenty of students, too – taking a break from the books on a mini-holiday amid the greenery. Not everything is going to be awesome blues… 😉
Lurie Garden
One of our Chicago favourites is Lurie Garden (201 E. Randolph Street, between Michigan Avenue and Columbus Ave.). It's a quiet corner but also has quite a bit going – the perfect mix of laid back and dynamic. Lurie, full of symbolism and history, original and special, is worth it for young people to join one of the guided tours to discover the park's secrets. Granted, they run just May through September, but there are also self-guided tours you can do 365 days a year, during the park's very expansive 17-hour day. Open 6 am to 11 pm. Public transport via:
Elevated train (green, organe, brown, pink, and purple lines) to Madison/Wabash or Randolph/Wabash stations.
Metro (red and blue lines) to Monroe or Washington stations.
Bus (various routes, including 3, 4, 6, 14, 20, 56, 60, 124, 151, 157, and 173).
Chicago Botanical Garden
Our second Chicago recommendation is its Botanical Garden (1000 Lake Cook Rd.), a huge public space with ponds, lakes, greenhouses, more than 20 themed gardens, zigzagging bridges… Entrance is free, and it's open daily except Christmas Day.
Outdoor activity usually opens up the appetite, and so a ten-minute drive away you'll find Boston Blackie's (405 Lake Cook Rd. A1), with a youthful ambiance and a menu of typical American food (tasty hamburgers, chicken in delicious sauces), and cheap prices.
Photo | Julio Romero