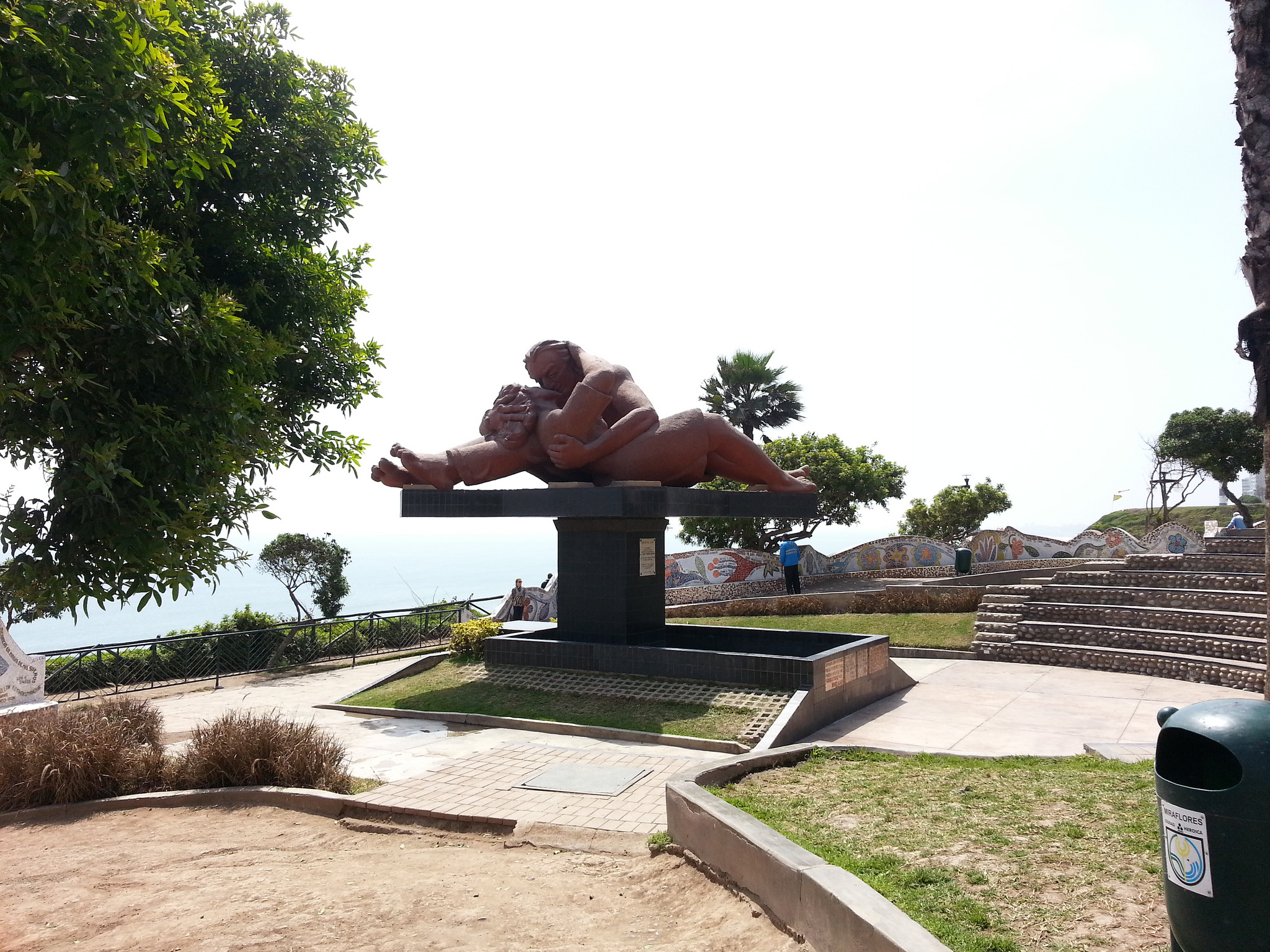 It is one of the most colorful, vibrant and suggestive parks you will have ever seen, and one that you will always remember after your next trip to Lima (Peru). It's even been said that you haven't really experienced a sunset by the sea until you view it from the famous Parque del Amor, a romantic enclave located in the district of Miraflores crowning steep cliffs that seem to challenge the immensity of the Pacific Ocean.
The first thing you'll notice when you visit Parque del Amor (Love Park) is that it's full of striking mosaics with tesserae of every color imaginable. It was appropriately inaugurated on February 14th, 1933, becoming since then a bastion par excellence for the lovers of the world. In the center part of the park you will encounter a formidable sculpture, "The Kiss," dedicated by sculptor Víctor Delfín to this delicate act of passion among lovers. The sculpture is an impressive twelve meters (40 feet) long by three meters (10 feet) high, so get the panoramic lens in your camera ready.
Over time, Love Park has become a popular place for couples as well as for friends and families from all corners of the planet, because aside from its natural charms, they can enjoy a variety of shows and free concerts in the open air. The area is also frequented by street vendors and joggers who prefer to run along the coast. As an added attraction, El Parque del Amor has other small parks, which are meticulously cared for.
The park also has an area designated as an amphitheater from where you can enjoy spectacular views of Lima's coast and its impressive cliffs. But if you'd like to know the best time for viewing the scenery, dusk is when you will truly enjoy the splendor of the incredible views facing the ocean, so set aside some time in your itinerary to enjoy this gift to the senses. Whether you visit with your partner or hoping to find your better half, Love Park is a must-see on your visit to the Peruvian capital.
Photo | JCHaywire