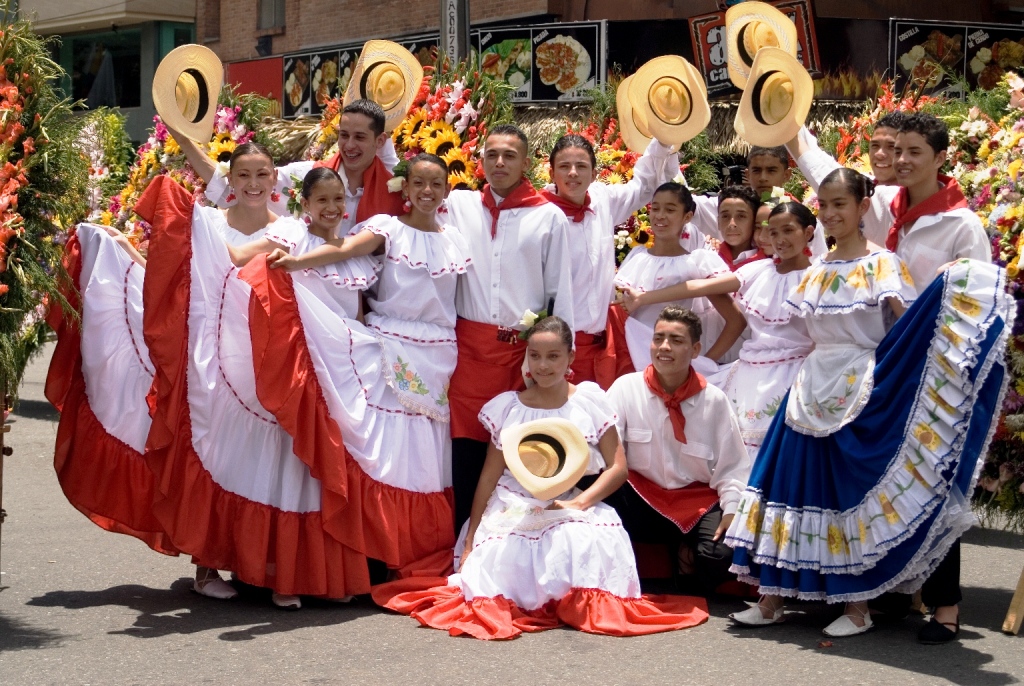 Quite a few cities around the world have their signature annual festivals: Carnival in Rio, Venice and elsewhere; Munich's Oktoberfest; and the Halloween, St. Patrick's Day, and Thanksgiving parades of New York City, for example. For Colombia's second-largest city it's a particularly unique one: the summertime's wonderfully colourful Festival de las Flores.
Yes, in this mountain city of "eternal springtime" for ten days in mid-summer it's flowers, flowers, everywhere – in parades, parks, exhibition spaces, and more. More than 20,000 visitors (nearly half from outside Colombia), and both the crowds and the participants skew young, and partying abounds. Some highlights of this landmark edition of 2017, marking its 60th anniversary (and most of them available for free):
Cultural Fair at Plaza de las Flores
Out next to the city's modern art museum (a very cool and worthwhile visit in its own right, and with free admission the last Friday of the month 6-10 pm), this beautiful square is the heart of the party. Here you will discover the most traditional elements of "paisa" culture: the food, the crafts, the music, game and sports. You will also be able to come in contact and familiarise yourself with "silletera" culture (more on that below).
Live Music Performances
There are concerts going on every day at venues large and small, culminating in the festival's closing night concert with a blockbuster lineup from across Colombia, Latin America, and beyond!
Savouring Local Specialities
Food stalls and street food vendors serve up a cornucopia of tasty paisa (local Antioquian) specialities such as sancocho (a hearty stew), sausages, pork rinds, agua de panetela (a sugar drink), mondongo (tripe soup), and bandeja paisa (a very typical mixed platter).
Antique Autos Parade
Like old cars? Here you'll see jammin' jalopies dating back nearly a century, along with drivers in period costume, from all over Latin America. It's a honkin' good time!
'Silleteros' Parade
The top highlight of this whole extravaganza is unquestionably the big, eye-popping Sunday parade on Avenida Guayabal of silleteros, the flower-growers in the hills surrounding Medellín who once carried their wares to market on their backs, on wooden frames called silletas (because of their resemblance to sillas, chairs), which can weigh up to 70 kilos (154 pounds). Also plenty of marching bands, folk dancers, military squads, and suchlike. Truly an unmissable spectacle!
The Silletero Trail
Tours run in chivas (gaily painted traditional buses) out to surrounding flower-growing towns such as Santa Elena, where you can visit the farms where these remarkable blooms are grown and sample more local specialities.
Get details and updates on the exciting programme and lineups at the Medellin Convention and Visitors bureau
Photo | Katja Hasselkus